Our Recommendations for You

Small good luck charm for the motorcycle ride
A Biker-Bell is a small bell that is attached to the motorcycle to protect the motorcycle and its driver from bad luck and evil road spirits. There is a legend that says that damage to motorcycles and roads is caused by so-called Evil Road Gremlins. However, these gremlins have a very fine hearing and the sound of Biker-Bells drives them crazy. This causes them to lose their grip on the motorcycle and fall off. Click here for the complete legend and more facts. You can believe in the legend or not but the fact is that a little lucky charm can never hurt, especially for the ride with the motorcycle!
Why should you order at Biker-Bells.com?
On the one hand, we have probably the largest but especially the hottest selection of Biker-Bells on the Internet and on the other hand, we offer you top service in every respect. Our Bells are all very high quality and come together with a gift bag and an explanation card - immediately ready as a gift. Our prices are absolutely fair and can be compared. In addition, we ship quickly and directly from Germany. All orders received before 2 p.m. will be shipped the same day (except weekends and holidays). If, contrary to expectations, the recipient does not like the Biker-Bell, you can exchange or return it within 30 days. Of course we always do our best to make sure that everything runs without any problems, but if there should be a problem, we will of course be there for you and find a solution. If you have any questions, please send us an e-mail to support@biker-bells.com or use our contact form.
There are several other names for Biker-Bells. So that it is not so confusing we try to explain it a little bit. Probably you have heard the terms Ride Bells, Riding Bells or sometimes Road Bells. These are all synonyms of Biker-Bells and basically they mean exactly the same thing, although Harley Davidson's Biker-Bells prefer to be called Ride Bells. Guardian Bells is also a widely used term for Biker-Bells. But actually only those Biker-Bells are real Guardian Bells, that come from the US manufacturer with the same name. Other US brand names for Biker-Bells are Gremlin Bells and Bravo Bells. The name Gremlin Bells refers to the little monsters that sabotage our motorcycles and streets. Bravo Bells are named after their artist and creator, Mr. Bravo. Colloquially, Biker-Bells are also known as Lucky Bells, Motorcycle Bells or just bells.
Biker-Bells are available in all kinds of shapes and variants, but the most popular are of course those with motifs from the biker scene. The classic are Biker-Bells with motorcycle, trike, quad, another kind motorcycle or just with engine block. Very popular as a gift are also Biker-Bells with animal motifs such as lions, eagles or even wolves. A little more special are Biker-Bells with 1%er motif, iron cross or a 13. Here the motif must necessarily fit the driver. Biker-Bells with religious or lucky motifs such as a cross, a guardian angel or a saint are also very popular. Biker-Bells with sayings like "Live to Ride", "Ride it like you stole it" or "Lady Rider" are also very popular gifts. Biker-Bells with a skull are not only gladly hung on the motorcycle since there are nice bells in 3D. Skulls and grim reapers are especially popular for motorcycle club members. And last but not least it can never be wrong to give the Biker-Bell with the matching motorcycle brand like Harley-Davidson, BMW or Indian.
We are looking forward to your order!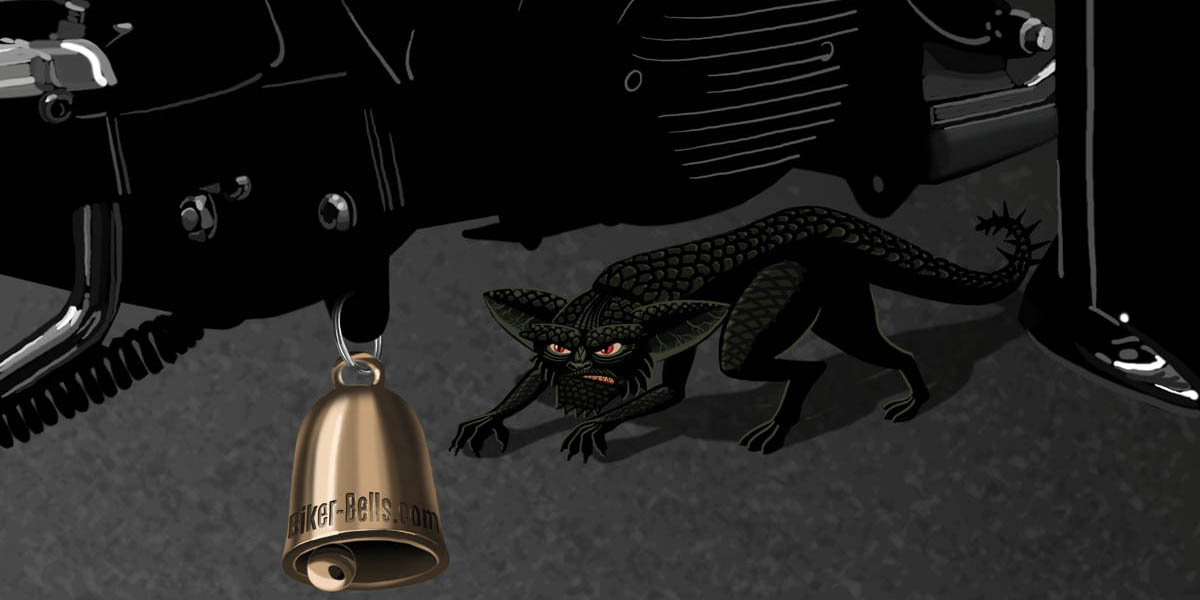 Keep Gremlins Away