Gremlin Bells

Gremlin Bells are handcrafted by a lovely couple from the East Coast of the United States and are 100% made in the USA. Marg & Rich have been doing this for what feels like an eternity and are therefore like legends among American Bikers. Gremlin Bells are named after the evil little gremlins that love to sabotage motorcycles, causing accidents and crashes. Admittedly, Gremlin Bells are not necessarily the most beautiful and detailed Biker-Bells. You can see the handwork on them but that gives the Bells authenticity and absolute retro flair. The old values still count here: hard work, honesty and respect - no masquerade. By the way, you can recognize real Gremlin Bells by the clapper, which has the shape of a small engine block.
1
to
24
(from a total of
41
)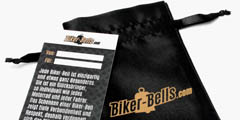 Biker-Bell as a gift
If you are looking for a gift for a biker, then you are always well advised with a Biker-Bell, because what is a nicer gift than happiness and goodwill? In the end, every biker can choose and buy his own Biker-Bell, but it is said that the happiness of a Biker-Bell is doubled when it is given as a gift. At Biker-Bells.com you will find a large selection of high quality, unusual and absolutely individual motorcycle bells and each of these small works of art comes together with a gift bag and an explanation card.