Guardian Bells

Guardian Bell is probably the world's largest and best known manufacturer of Biker-Bells and calls itself The Original. The name Guardian Bell describes quite well the purpose of these small lucky charms. Guardian Bell is therefore also often used as a synonym for Biker-Bell or Lucky Bell. Guardian Bells are made in the USA and offer the largest selection of motifs, not only for bikers.
1
to
24
(from a total of
32
)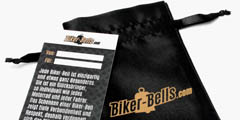 Biker-Bell as a gift
If you are looking for a gift for a biker, then you are always well advised with a Biker-Bell, because what is a nicer gift than happiness and goodwill? In the end, every biker can choose and buy his own Biker-Bell, but it is said that the happiness of a Biker-Bell is doubled when it is given as a gift. At Biker-Bells.com you will find a large selection of high quality, unusual and absolutely individual motorcycle bells and each of these small works of art comes together with a gift bag and an explanation card.