Ryder Balls

The Original Ryder Balls come from sunny Florida, USA and are the only Biker-Bells with the special ball shape. Ryder Balls therefore advertises with the slogan "Does your bike have Bells? 'Tinkle Tinkle' Or does your bike have BALLS?". Which is a clear combat announcement in the direction of conventional motorcycle bells. Ryder Balls also promises that the unique sound will not only drive away evil street spirits, but will also be sexually attractive to the opposite sex. Traditionally, two Ryder Balls are attached to the motorcycle, here the motifs can be combined as desired.
1
to
12
(from a total of
12
)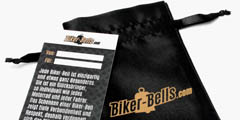 Ryder Balls as a gift
If you are looking for a gift for a biker, then you are always well advised with a Biker-Bell, because what is a nicer gift than happiness and goodwill? In the end, every biker can choose and buy his own Biker-Bell, but it is said that the happiness of a Biker-Bell is doubled when it is given as a gift. At Biker-Bells.com you will find a large selection of high quality, unusual and absolutely individual motorcycle bells and each of these small works of art comes together with a gift bag and an explanation card.