Tibet Bells

Tibet covers the largest area of the Himalayas and is therefore considered the roof of the world. In Tibet, the bell is considered a sacred object and is used, among other things, for sound meditation. Here, the bell is a symbol of the element of air, teaching and wisdom. It is believed that bells combine the sounds of all musical instruments. Bells are therefore used as a kind of tool for various tasks. Thus, the sound of a bell can call good spirits, banish negative energies and even create a connection between heaven and earth. The traditional bells are usually made of brass and elaborately decorated. With us you get your very own miniature version of Tibet Bells, which will be a faithful companion and protect you with its sound.
1
to
19
(from a total of
19
)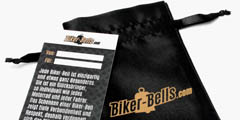 Biker-Bell as a gift
If you are looking for a gift for a biker, then you are always well advised with a Biker-Bell, because what is a nicer gift than happiness and goodwill? In the end, every biker can choose and buy his own Biker-Bell, but it is said that the happiness of a Biker-Bell is doubled when it is given as a gift. At Biker-Bells.com you will find a large selection of high quality, unusual and absolutely individual motorcycle bells and each of these small works of art comes together with a gift bag and an explanation card.