Lucky Charm To Go
Each Biker-Bell is unique and very special. It is a lucky charm, as individual as each motorcycle and each rider. The gift of a Biker-Bell shows deep connection and respect, therefore the luck doubles when giving.
We are looking forward to your order!
1
to
24
(from a total of
244
)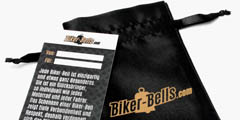 Biker-Bell as a gift
If you are looking for a gift for a biker, then you are always well advised with a Biker-Bell, because what is a nicer gift than happiness and goodwill? In the end, every biker can choose and buy his own Biker-Bell, but it is said that the happiness of a Biker-Bell is doubled when it is given as a gift. At Biker-Bells.com you will find a large selection of high quality, unusual and absolutely individual motorcycle bells and each of these small works of art comes together with a gift bag and an explanation card.
Road Bells Stainless Steel
At Biker-Bells.com you will find a large selection of Road Bells made of extremely high quality 316L stainless steel, as you know it from expensive jewelry. These motorcycle bells are super finely crafted, mostly with polished surface and some are even partially or completely gold plated. Stainless steel Biker-Bells have the advantage of needing very little to no maintenance, as stainless steel does not tarnish and always shines beautifully. In addition, stainless steel is very hard and so the small lucky bells are almost not susceptible to scratches and scuffs. You can get our Road Bells Stainless Steel with many classic biker motifs like skulls, iron cross, onepercenter, engine block or animal motifs.
Bravo Bells
Mister Bravo is an US-American artist from California and Biker-Bells are his passion. He creates probably the most impressive 3D designs for Biker-Bells and has them cast directly in his home country. So Bravo Bells are all 100% made in the USA. If you choose one of these fancy Ride Bells, you are guaranteed to get an absolutely individual eye-catcher and have a true work of art hanging on your motorcycle!
Gremlin Bells
Gremlin Bells are handcrafted by a lovely couple from the East Coast of the United States and are 100% made in the USA. Marg & Rich have been doing this for what feels like an eternity and are therefore like legends among American Bikers. Gremlin Bells are named after the evil little gremlins that love to sabotage motorcycles, causing accidents and crashes. Admittedly, Gremlin Bells are not necessarily the most beautiful and detailed Biker-Bells. You can see the handwork on them but that gives the Bells authenticity and absolute retro flair. The old values still count here: hard work, honesty and respect - no masquerade. By the way, you can recognize real Gremlin Bells by the clapper, which has the shape of a small engine block.
Guardian Bells
Guardian Bell is probably the world's largest and best known manufacturer of Biker-Bells and calls itself The Original. The name Guardian Bell describes quite well the purpose of these small lucky charms. Guardian Bell is therefore also often used as a synonym for Biker-Bell or Lucky Bell. Guardian Bells are made in the USA and offer the largest selection of motifs, not only for bikers.
Ryder Balls
The Original Ryder Balls come from sunny Florida, USA and are the only Biker-Bells with the special ball shape. Ryder Balls therefore advertises with the slogan "Does your bike have Bells? 'Tinkle Tinkle' Or does your bike have BALLS?". Which is a clear combat announcement in the direction of conventional motorcycle bells. Ryder Balls also promises that the unique sound will not only drive away evil street spirits, but will also be sexually attractive to the opposite sex. Traditionally, two Ryder Balls are attached to the motorcycle, here the motifs can be combined as desired.
Dream Apparel
Dream Apparel, based in Fayetteville, Tennessee, USA, specializes in leather goods for the biker scene. Leather jackets, boots, cowls and more, but also very cool biker bells. Many of the bells with DREAM inscription have rebellious and/or patriotic motifs, as known and loved from the southern states. The motorcycle bells from Dream Apparel are easily recognizable by their somewhat darker coloring, which is reminiscent of burnished firearms and exudes a touch of nostalgia. In addition, the Bells are somewhat larger and bulkier than known from other brands, but still very fine and detailed elaborated. If you are a fan of unusual motifs, bikers to the core and have a rebellious streak, you will surely love the Biker Bells from Dream Apparel!