Mot Roll Bells

Biker Bells from Mot Roll are especially known for their strong sayings. Made of high quality 316L stainless steel, these little lucky charms are extremely robust and durable. These Biker-Bells mostly shine in black Mot Roll brilliance, which gives them a very classy look. But the silver, highly polished variants are also extremely chic. You can recognize the bells by the distinctive burning tire with Mot Roll inscription. The bright, clear sound of the Bells is guaranteed to make any evil street ghost tremble. What saying is your favorite?
1
to
4
(from a total of
4
)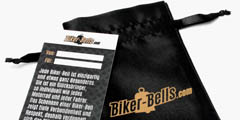 Biker-Bell as a gift
If you are looking for a gift for a biker, then you are always well advised with a Biker-Bell, because what is a nicer gift than happiness and goodwill? In the end, every biker can choose and buy his own Biker-Bell, but it is said that the happiness of a Biker-Bell is doubled when it is given as a gift. At Biker-Bells.com you will find a large selection of high quality, unusual and absolutely individual motorcycle bells and each of these small works of art comes together with a gift bag and an explanation card.