Road Bells

At Biker-Bells.com you will find a large selection of Road Bells made of extremely high quality 316L stainless steel, as you know it from expensive jewelry. These motorcycle bells are super finely crafted, mostly with polished surface and some are even partially or completely gold plated. Stainless steel Biker-Bells have the advantage of needing very little to no maintenance, as stainless steel does not tarnish and always shines beautifully. In addition, stainless steel is very hard and so the small lucky bells are almost not susceptible to scratches and scuffs. You can get our Road Bells Stainless Steel with many classic biker motifs like skulls, iron cross, onepercenter, engine block or animal motifs.
1
to
24
(from a total of
45
)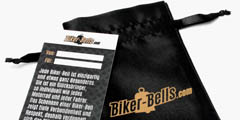 Biker-Bell as a gift
If you are looking for a gift for a biker, then you are always well advised with a Biker-Bell, because what is a nicer gift than happiness and goodwill? In the end, every biker can choose and buy his own Biker-Bell, but it is said that the happiness of a Biker-Bell is doubled when it is given as a gift. At Biker-Bells.com you will find a large selection of high quality, unusual and absolutely individual motorcycle bells and each of these small works of art comes together with a gift bag and an explanation card.